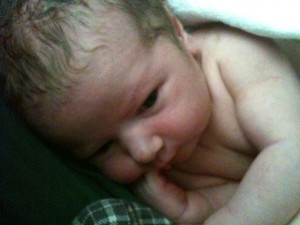 The baby's here!  Stephen John was born at 12:25 am on June 25th, at home, and weighing in at 8 lbs, 9 oz, and 20.5″ long.  🙂  Here's the story, with a bit of back story first…
Our first four kiddos were all born in the local "baby factory" hospital.  I had epidurals for all four.  With #1 and #2, I had intentions of trying to "go natural" but opted for the drugs since the option was right in front of me and oh so tempting.
With #3, born in 2008, I honestly had the attitude of, "Well, I caved with the first two.  I'm just going to mentally plan to get the epidural this time around.  I don't have to prove anything to anyone."  So, epidural it was.
With #4 in 2010, my OBs wanted me to plan for the epidural so I could "labor down" more gradually because of the brain injury my 3rd child sustained from a very fast birth (which is a whole 'nother amazing God-story I should probably write about someday).  So, once again, epidural it was.
About half way through my pregnancy with #4, I met an amazing group of mamas, many of whom had had their babies at home – intentionally.  It was the first time I'd ever consciously realized that this was an option people chose, rather than it just happening accidentally.  I was so impressed and found myself open to the idea, but I was already pretty well down the road with our OBs (who had been my ob/gyns for years!) and didn't want them to think I was "leaving" for anything having to do with them (I was happy with them and loved them as people, you know?).  Plus, I just don't think I was really "there" or "ready" yet myself.
When we found out in September 2012 that we were expecting baby #5 (yes, totally welcomed, not an oops!), I knew I wanted to take the home birth journey this time around.  I was "there" and "ready" mentally, emotionally, spiritually…
My ever growing desire to 1) get closer and closer to my Creator in every way possible; 2) become increasingly less (one step at a time) dependent on man made systems; 3) empower especially my girls to know that they were amazingly designed to do this without fancy interventions (but to also be thankful for life saving medical advances if truly necessary in emergencies); and 4) get back in touch with myself on some deeper level physically, having always opted for the path with numbing anesthesia in the past…  There's a lot of deep stuff there that I'm not sure I could communicate coherently at the moment, just a few weeks postpartum and a tad sleep deprived – not to mention limited on computer time.  🙂  But suffice it to say, I just knew this was the road I wanted to take this time around – and Fred was cool with it, too.  I was glad he didn't think I was crazy.  We were both used to just living life as normal right up until it was time to go to the hospital, having everything done for us and very little to prep work to do, basically sleeping through labor until it was time to push, and then having what honestly felt to me like a 2-3 day vacation (I did not choose a home birth this time around because of any "bad experiences" with the hospital, it was more more philosophical and spiritual reasons)…  This would be a very different journey!
Thankfully, pregnancy was pretty uneventful.  And as you might imagine, life with 4 other kids, major changes in our future pending (preparing to move to England, hopefully in August 2014), and a growing business never once slowed down until the very end when I finally set my intentions firmly to slowing down.
I signed off line from work on June 8th to give myself a week to get everything ready for the home birth, since our due date was 6/14 and we still had some supplies to gather and a birth tub to figure out how to set up.  And I was really hoping the baby would come early, since #4 had been two days early.  So, we were pretty much ready to go by the beginning of that week – and the wait began.
Waiting, waiting, waiting…  Around the 41 week mark – as we began to wonder more and more not only when the baby would show up, but also whether this baby would be a boy or girl – we thought maybe we should finally decide on a boy name.
We had had a girl name picked out since our 3rd "girl" popped out with a penis…  Yes, they were wrong and we were surprised anyway that time around…  Lydia Grace turned out to be a boy instead and got the name Matthew Paul, for our grandfathers who had passed away at that point.  But we really had no idea what we'd name this baby if it were a boy.  With #4, we had gone through the alphabet, choose our favorite boy name for each letter, then narrowed it down to 5 names based on our usual biblical, name meanings, and/or family/life significance filters.  Then, we let the girls each pick a name.  Aubrie chose Andrew (the first disciple; manly) for the first name, and Ruthie chose Peter (the second disciple; rock; and Fred's middle name) for the middle name.
So we thought, "Let's just go back to that short list we had last time around."  The names Stephen, John, and Daniel were left.  I also have "a thing" about the "flow" of the names being similar – two syllables, one syllable.  Though, yes, I know, I know…  Peter is not one syllable.  Fred likes to pick on me about that one.  But it's short enough to count in my mind.  😉
We have a lot of significant Steve's in the family – my father and uncle, and Fred's uncle – plus we liked the symbolism from St Stephen, the first martyr, and being willing to lay one's life down for the Lord and His glory.  Something about that seemed to resonate, particularly on the heels of Fred having just quit his teaching job to step out in faith and pursue with great intention our calling to serve overseas in the near future (but that's also a whole 'nother God-story – one which I need to type up soon!).  And then the middle name…  The name John is pretty "popular" back in Fred's family line, and we especially like the juxtaposition of the first martyred saint with the saint they tried to martyr but couldn't.  Something about 'crown' and 'gentle' – the meanings of Stephen and John – also seemed particularly special given the things God's been working on in our personal baggage lately.
So now we had our possible names…  Lydia Grace or Stephen John.  Which one would it be?  We kept waiting…
Finally, Monday night the 24th we went to a poetry event that Fred frequents, and as we arrived, I noticed the slightest contraction.  But of course, I'd been waiting now for 10 days past our due date and really didn't want to get my hopes up.  But the little contractions continued pretty consistently throughout the evening to the point where around 8:30, I called my mom to see if my mother-in-law could bring the boys over for a sleep over just in case.  The girls said they wanted to be home with us.  So off the boys went to my mom's, and off home Fred, the girls, and I went, and I started more consciously timing the contractions so I could text my midwife, Christy, an update.
Around 9:30, I texted her that the contractions were maybe 3-4 minutes apart but not very strong yet.  "Keep me posted," she said.
Around 10:40, I texted: "Definitely a bit stronger and longer, but nothing major yet.  Every 2-3 min…  Stopping to breathe through them, but still relatively short, maybe 30 seconds?"
11:35's text: "Definitely getting more intense.  1.5-2 min apart.  Lasting 25-40 seconds ish?"
Christy was on her way over – about a 20 minute drive depending on the lights and traffic (which shouldn't be bad at that time on a Monday night).
12:09's text:  "ETA?  Felt slight urge to push on that last one.  But can hold off, but…"
Nope, wasn't going to hold off!  Next contraction was very strong and waters broke!  Here we go!  Christy had called at this point to tell Fred she was just 5 minutes away.
Sure enough, she came rushing up the steps 5 minutes later (at 37 weeks pregnant herself – amazing woman!!), just in time to catch the baby, who was fully out and into his new world by 12:25.
A boy!  Stephen John it was after all!
What timing!!  What relief!  What joy!  Such amazing stuff – and just a bit messy, ha!  🙂
My eldest daughter (my tomboy) stumbled in half delirious shortly after the birth, said something to the effect of "Oh yay, it's a boy," and went promptly back to bed.  My #2 (total girlie girl) slept through the whole thing (somehow?!) and it took two tries to wake her to come see the baby (which she had asked us to do).  She saw him, said he was cute, and went right back to sleep.
Stephen and I spent the next hour snuggling and nursing, then we cut the cord to get everyone cleaned up and discovered that he'd had his first giant meconium poop all over me.  Lovely!  But hey – the upside was that I still had feeling in my legs and could get right up and into the shower – yay!
Stephen checked out to be in great shape.  Christy and Val brought me food and drink and cleaned up and were heading home by 3:30 or so…  It was so nice to just rest in our own bed with no hospital noises and interuptions…  Such a different and wonderful experience…
It's funny.  Though at the time I know I was calling out to the Lord for strength and reminding myself in mantra fashion, "I know why I'm doing this…" pretty intensely, I looked back just 5 minutes later and thought, "Wow, that wasn't so bad!"
We are SO thankful that all went smoothly – especially since we know there is never any guarantee in life other than the Lord loving and guiding us through whatever may come our way, good or bad.
I'm sure there is more I could say about the "deeper stuff" of this birth experience, but for now, it's taken me long enough to get just some of the basic story typed up – and I really want to get back off my computer.  So for now, there it is – our home birth story.
Many thanks to the inspirational mamas of the West Jersey/Philly chapter of Holistic Moms, and in particular Sarah Outlaw and Erika Zane.  An extra special thank you to Christy, Val, and Asasiya – the most awesome midwives ever!  A big thank you also to my Miessence colleagues who have kept things running for our business team during my babymoon – to the point even of blessing me with a promotion in June while I personally did very little.  A huge thank you of course to my amazing husband, who was/is an incredible support and totally awesome during the labor and birth except for when he stepped on my foot in the middle of a contraction – I can look back on that and laugh now.  🙂  Thank you also to my 4 wonderful older kids – such great big sisters and brothers… I love you each so very much!  And of course, the biggest thanks of all goes to my amazing Creator, Savior, and Lord…
"With the help of the Lord, I have brought forth a man."
"My soul glorifies the Lord and my spirit rejoices in God my Savior."