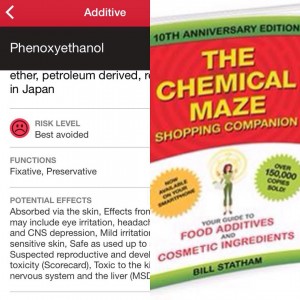 Growing numbers of people today are concerned about potentially harmful synthetic ingredients in food, personal care products, and household cleaning products.  And rightly so.
There are over 12,000 synthetic chemical ingredients used in the personal care industry alone – many of which haven't been fully studied over long periods of time to prove safety.  Some have, and a few may be fine, but many many more… not so much.  Some may have been deemed 'safe for use' in certain small concentrations in a given product formulation, but the fact that 1) these products are generally used in combination with many other daily routine products, and that 2) many of these synthetic chemicals can build up in your body systems over time, is never taken into consideration when the short term safety studies are conducted.
At the same time, obsessing and worrying about toxic ingredients in foods and products can create just as many issues with your body's toxic burden through stress chemicals and such.
Personally, my choice to use truly organic personal care and household cleaning product options, and eat real, organically-grown food as much as possible (including our choices in nutritional supplement products), is about drawing nearer to my Creator's heart and how He has provided for all humanity through nature – one byproduct of which is avoiding many toxic synthetic chemicals in our daily routines.
By making these choices for our household and regular routines, we can live without fear or worry about what foods we might eat or products we might use while out and about in community with others who may not be concerned with such ingredients, because we know that a) our bodies have been designed to handle a certain amount of toxic exposure anyway and that b) we are doing what we can to align ourselves with the natural designs in creation for nutrition, hygiene, and healing.  We also know that ultimately, God is sovereign and can both heal our diseases and/or carry us through any times of suffering, including those that might lead through death.  Death is just the gateway to more life for anyone who trusts in Jesus anyway, so we need not worry and obsess about things like daily toxic exposures.  We just seek to align ourselves more and more in our daily choices with His heart and creation and trust Him fully for whatever each new day will bring.
When it comes to personal care, household cleaning, and nutritional supplement type products, I am grateful for the freedom I have from reading labels now, since having met a formulator I can know personally and trust (having initially read all her labels and come to know her commitment to honesty, transparency, education, and the best possible ingredients).  While, as part of my general consulting work, I do still read a lot of labels for other people still exploring various other brands, using Narelle Chenery's Miessence products in my own household has given me rest from the constant need to be label reading when shopping for my own family.  I can now just shop online for our needs, knowing that what we'll get from Narelle will always be the best in terms of organic standards and purity of ingredients etc.   (This is my Miessence store link – while I am a rep for her products now and do receive commissions from my customers' orders for which I am very grateful, it is only because I'm first and foremost her happy customer and feel 100% comfortable recommending her products to others as a rep too.)
For those who are still reading lots of labels when standing in the grocery aisles or shopping online, Narelle recently interviewed Bill Statham, author of The Chemical Maze.   And Bill has very generously offered me 10 iPhone apps or companion shopping guide books to giveaway to subscribers of my inbox magazine.  Yay!  🙂
I downloaded Bill's app recently and it is truly fantastic.  Such a simple to use tool and great resource.  I highly recommend this resource, and if you don't win in through my giveaway at the end of the month, you can purchase the app here or the book here.  (I earn nothing on the purchases of this app or book.)
Current subscribers will get the details on how to enter the giveaway in the August 25 issue of MiCommunity – so watch your inbox.  🙂  New subscribers can also enter through the details coming out in the August 25 issue, BUT will get one instant giveaway entry just for subscribing to MiCommunity, with the code #ChemMazeGiveaway in the 'How you found me' field, any time between now and August 24th.
Below is the interview Narelle conducted with Bill on July 31.  Please note – the giveaway mentioned in the interview has already passed, but you can subscribe to my inbox magazine here for an instant entry into the August 31st giveaway I'm running with Bill now (or, current subscribers, watch your inbox on August 25 for details).