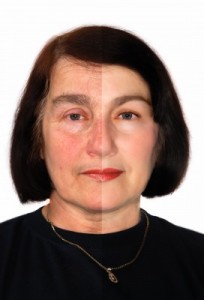 Updated 7/2/13 – see note below. 
Read to the end (or if you're short on time, scroll to the end) for an offer of free skin care samples, certified organic to food grade standards. Oh, and don't miss the testimonial from one of my clients. 🙂
These days, claims abound promising eternal youth and the eradication of wrinkles in a matter of days, hours, or even minutes.  The messages tap into our fears of getting older and so many of our insecurities…
There's nothing wrong with wanting to age gracefully or taking good care of one's skin.  However, people are beginning to wake up to the fact that there are numerous unintended and detrimental consequences to the many "quick fix" beauty products on the market.  IF they actually deliver real results (many ads use airbrushed photos such as the picture above – how misleading!  No, that is not a picture claiming to show you results you'll get from the samples offered below – it's an example of the unethical marketing tactics used all too commonly today), most do so with a heavy dose of synthetic chemicals created specifically to manipulate the natural function of the skin in very unnatural ways.  The glut of plumper and filler products on the market most often leave your skin physically in a less healthful state (let alone the fact that these "band-aid" approaches rarely encourage people to deal with the underlying lifestyle issues of premature aging or our very real and normal emotional insecurities surrounding the topic of aging) – and may very well be contributing to the rising rates of cancer and other such diseases suspected to be triggered by the "synthetic chemical soup" we live in today.
In their tips for choosing safe cosmetics, the Breast Cancer Fund lists anti-aging creams with synthetic chemicals as the top 'general product category' offender to avoid.  They also suggest using truly natural/organic products…  AND, not surprisingly, watching out for fake natural and organic claims.  The natural and organic segment is the fastest growing segment of the cosmetic industry today, and as the market increases, unfortunately so does the number of "cheater brands" out there.  The Organic Consumers Association has a good resource on cheater brands and legit brands; however, unfortunately the cheater list should be much bigger – it has grown significantly even in just the past few years…
The best tip I can give you is to be a super skeptic and ask lots of questions.  Even if you hear "certified organic" these days, you really have to ask, "Certified by whom and to what standards exactly?"  And THEN, read the labels to make sure the answer you get matches the facts on the label.  If you have any doubts, feel free to run an ingredient list from any brand past my eyes – I'm happy to give thumbs up to any brand that does not use toxic ingredients AND uses truthful marketing claims.
Today, I'm excited to be able to offer free samples of truly certified organic skin care products for dry/mature skin to new subscribers who submit the request form below.  Yes, this is my favorite brand for whom I now also do representative work, but I'm first and foremost their happy customer and am married to the principles not the brand – if I found something better, I'd switch and tell all my clients and readers (like I did almost 3 years ago when I found Miessence).   So the disclaimer: yes, if you choose to order through me, you will be helping to support my business, which in turn supports my family of 6 (soon 7) on so many levels. 🙂
What I loved about Miessence when I found them as a customer myself was:
Their highest level of purity and verifiable claims (certified organic to international food grade standards);
The fact that they were the first to achieve this standard in 2001 (ie, they are truly committed to organics not just riding a bandwagon trend);
Their very upfront and clear explanations of which products meet which standards and why (see the 2nd video here),
Their natural, holistic approach to skin care, using the purest organic ingredients, and with an educational emphasis on internal factors that help to reduce the chances of premature aging, such as antioxidant real-food-only nutrition (I do love their antioxidant superfood product)
AND… their results!  After three weeks of digging, investigating, and verifying their claims, I finally tried the products and was thrilled to find that they work at least as well, and more often better, than anything else I'd ever tried – without the synthetics. Three years later, I still love the results, smells, feel…  🙂
PLUS, everything else they do as an ethically and sustainably run business – can't possibly list it all out here, but it's a LOT. The total value of the products and their impact for good in the world is incredible for the mid-range retail price point… not to mention the 20% off all the time discount option and referral benefits for customers, and… Did I mention there are too many positives to list them all here?!  🙂
So, back to the Miessence skin care products specifically… Here is a short video highlighting the skin care products and their uniqueness in the marketplace…
–
Here is what just one of my clients, with a history of very sensitive skin, recently had to say about these products…
"LOVE THEM 😉 My skin has never felt any better, no adverse reactions. Love the plumpness it adds to my skin, my skin drinks it like water. Tiny forehead lines have decreased in depth! When washing my face the scent of products makes me feel like I'm having a mini face spa treatment. My husband likes that my face feels baby soft. LOVE IT, LOVE IT, LOVE IT! Thank You." ~ Machell H, in Pennsylvania USA
And now to get your free samples!  Check out the details in the terms & conditions below, but basically, this offer is open to anyone who is not already on my e-newsletter list who subscribes via the form below (note of course, you can unsubscribe any time if you wish).
–
Important Update 7/2/13 – This request form has been removed because sample supplies for this specific blog post offer have run out as of 7/2/13.  If you submitted a request on 7/2, I will be responding in the order the requests were received and will be in touch soon as to whether your request can be met or not. 
*** To be kept posted on possible future sample offers, please subscribe to my newsletter here.  I do anticipate having a limited free sample offer for newsletter subscribers in late July or early August in July 9th's newsletter.


Terms & Conditions:  This offer is only available to new (as of 3/13/13) subscribers of KV Organics' e-newsletter who specifically fill out the form above and who are not already connected with another Miessence Representative.  Note: submitting this form will subscribe you to my e-newsletter, and of course, you can easily unsubscribe any time.  Offer good for one free 3-step (cleanse, condition, moisturize) set of Miessence rejuvenating skin care samples for dry/mature skin types, and only while supplies last.  Open to all residents of Canada and the US; residents of Australia & the UK are welcome to submit a request and every effort will be made to fulfill the request, but cannot be guaranteed.  Samples will be put in the mail within 2 business days of the received request.